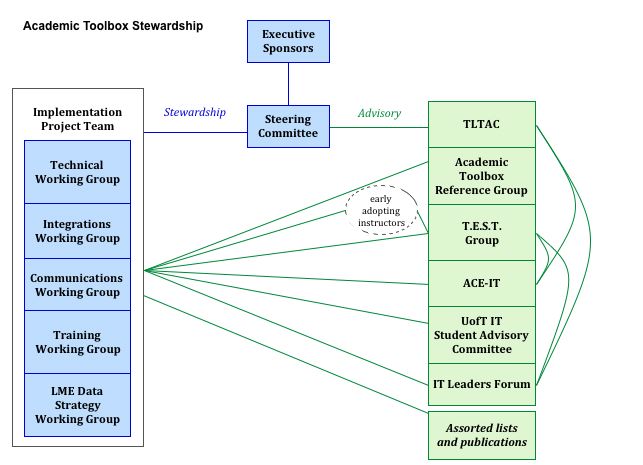 Executive Sponsors & Steering Committee:
Vice-President University Operations & Vice-Provost Academic Operations
Vice-Provost, Innovations in Undergraduate Education
Chair, Department of English
Chief Information Officer
Director, Centre for Teaching Support & Innovation
Writ:
Sets overall direction for project
Makes decisions on guidelines and policy related matters (e.g. overall look and feel, data retention and access policies, etc.)
Adjudicates any issues raised by the project team
Ensures senior administration is informed
Implementation Project Team
Technical Working Group:
Membership drawn from CTSI and ITS staff, as well as some additional technical experts from various divisions. Chaired by Senior Manager, ACT Operations
Writ:
TWG will make decisions related to core LME configurations and set up
Responsible for course and content migration plans and execution
Responsible for eventual decommissioning of old system
Integrations Working Group:
Membership drawn from ITS staff as well as some additional technical experts from various divisions. Chaired by the Manager of Application Administration in ACT Operations.
Writ:
The IWG is responsible for the migration of existing integrated tools (especially LTI-compliant tools) from Portal to the new Toolbox
The IWG is responsible for evolving the current Integration Recommendation process to reflect the needs of the new Toolbox (see http://integrate.act.utoronto.ca for existing processes).
The IWG will essentially operate as a sub-group of the TWG (see above)
Training & Support Working Group:
Support and training execution is the joint responsibility of CTSI through its existing partnerships with academic divisions, including planning and delivery of training to both professional staff (train-the-trainer model) and end users (instructors, students, staff). Chaired by CTSI's Manager of Academic Technology Support
Writ:
Responsible for training and support planning
Work closely with Supplier's Training Team
Develop Training Materials and Support Documentation
Deliver (or facilitate delivery of) relevant training to Instructors, Students and Staff
Communications Working Group:
Membership includes professional staff from the Centre for Teaching Support & Innovation, Information Technology Services, University of Toronto Communications (Office of the Vice-President Communications), Office of the Vice-Provost Students. Chaired by LME Project Manager
Writ:
Responsible for maintaining and actualising the communications plan during the Implementation phase, including: in-person updates to identified groups, as well as through a number of publications as appropriate, ensuring that the University community is well informed and updated regularly on project progress.
LME Data Strategy Working Group:
Membership includes professional staff and subject-matter experts from University Planning & Budget, Data Governance, Business Intelligence, ITS Policy & Governance, University of Toronto Libraries, ACT Operations, and Office of the Provost (Academic Affairs). Chair TBD.
Writ:
Devise and recommend LME data management and retention policies to institutional leadership
Work with operational staff to implement technical solutions for LME data management, access control, and retention
Advisory Groups
Teaching, Learning and Technology Advisory Committee (TLTAC)
TLTAC is a high-level (decanal or designate) consultative body to guide policy and operations related to the advancement of teaching and learning (including the use of information technologies). Meets quarterly. Chaired by VPIUE.
Academic Toolbox Reference Group
The ATRG is a multi-divisional, tri-campus advisory group that serves as a monthly forum for discussion on enterprise instructional technologies.
Toolbox End-user Support Team (TEST)
TEST is a tri-campus weekly forum for providers of division-level support for the  Academic Toolbox (Portal and related tools). TEST members also provide updates to each member's individual constituencies.
Advisory Committee on Enterprise Information Technology (ACE-IT)
Is a newly formed advisory-to-the-CIO group, consisting of divisional and central director-level IT leads. Will be meeting monthly starting in July.
IT Leaders Forum
IT Leaders is a forum for open discussion and the exchange of information between tri-campus IT leaders and stakeholders.
Full descriptions and memberships available from: http://main.its.utoronto.ca/about/committees/
For access to the LME RFP Process Archives: http://toolboxrenewal.utoronto.ca/the-portal-is-changing/